The Tendance Fruit grocery store
Artisans at the service of nature, we are proud to offer baskets rich in taste and color. We believe there is beauty in everything. Especially in our fruits. And because it is important to us to value each one of them, we decided to transform those with small defects into delicious artisanal products.
At Tendance Fruit, nothing is lost, nothing is thrown away, everything is transformed.
Discover our basket "le Friand", composed of tasty artisanal products: jam cooked in a cauldron, fruits delicately dehydrated during long hours but also succulent cashew nuts roasted then coated with spices or caramel… Discover unexpected flavors and offer a real explosion of tastes to your palate!
You want to make or treat yourself? You have a last minute cocktail party? You wish to please a person who lives alone? Don't wait any longer and order your basket now.
Choose from our selection of fruit-based grocery and snack products. Compose your basket and enjoy!
Vary the pleasures with our seasonal or exotic fruit subscriptions! Our fruit boxes are perfect to bring vitality to your daily life.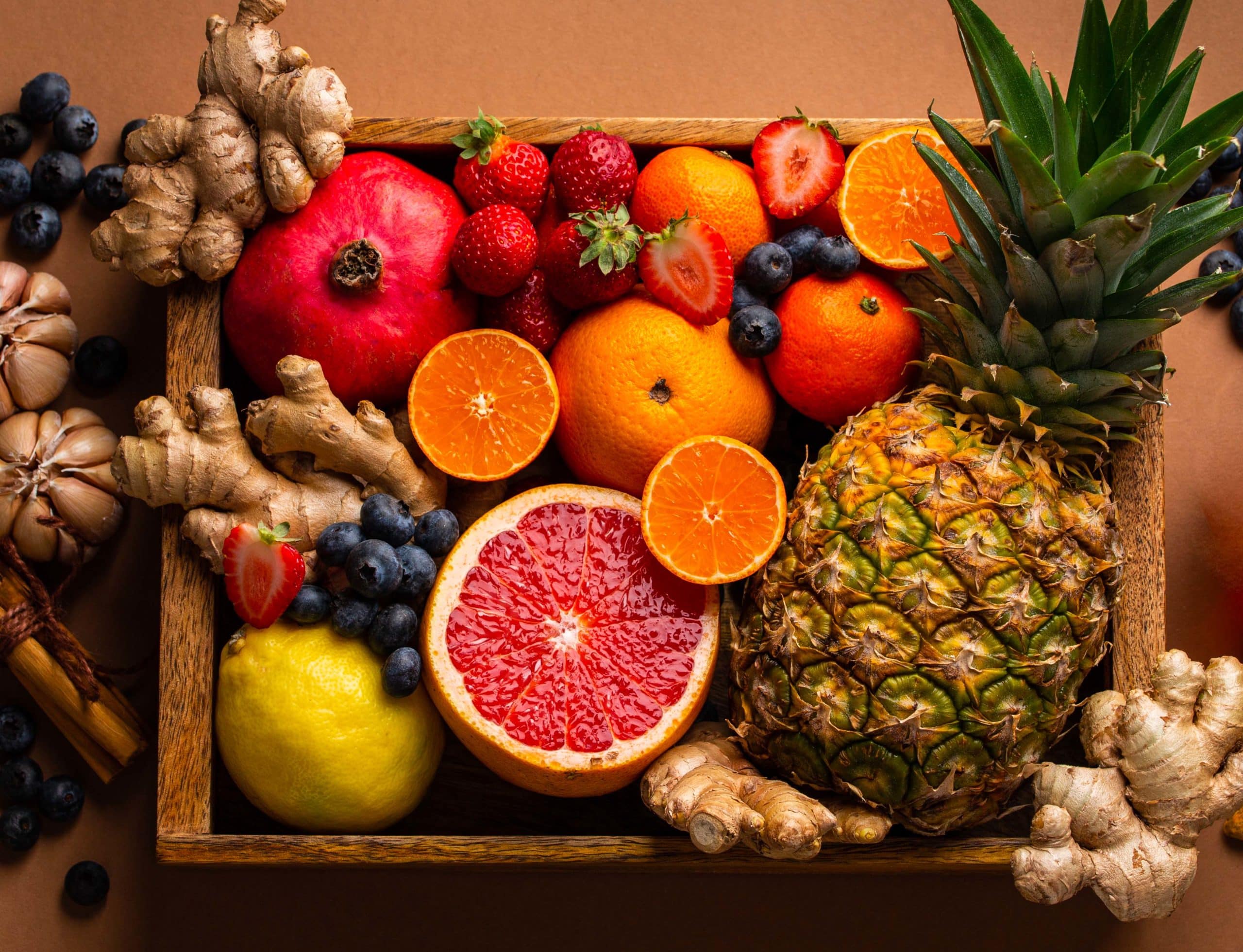 From the 5-star version to exotic compositions or more classic (but still delicious) assortments, our fruit baskets have it all.
At Tendance Fruit, giving pleasure has never tasted so good.
Subscription, various fruit baskets and even catering, give freedom with our gift vouchers ranging from 50 to 500 CHF. So, to awaken the taste buds of your friends, your colleagues or your family, it's over here!
A 100% handcrafted production
The best fruits, 100% artisanal processing and a lot of love: this is the recipe for our line of grocery products. Our expert preparers carefully make jams, dehydrated fruits, roasted cashews (caramelized or spiced) and fruit nectars in our production workshop, located in the heart of the canton of Vaud, in Aclens.
Good for your health
Tendance Fruit's mission is to offer healthy and nutritious snacks for children and adults alike!
Dehydrated fruits, medjool dates or mango nectar, Tendance Fruit snacks combining well-being and taste are finally coming to your home and I promise, you will be able to consume them without moderation
In addition, we are pleased to present our aperitif range, composed of cashew nuts roasted with spices (curry and paprika) or caramelized with sesame. These will be the perfect accompaniment to an aperitif with friends and will delight your guests on any occasion.
An initiative against food waste
Tendance fruit is committed to doing something for the planet. We hope to sensitize our customers to the fight against food waste, by revalorizing fruits considered unsightly: thus, we transform and offer a second life to slightly dented apples, stained bananas or overripe mangoes.
Yanyun Lu
Décembre 16, 2022.
Les produits sont toujours en bonne qualité, et le service aussi ! Même si des fois on ne commande pas dans le bon horaire, mais on nous livre toujours ! Merci pour toute l'équipe ( maru sushi) 😍😍
Amedeo Lai
Novembre 17, 2022.
Antonio Babo
Septembre 16, 2022.
Simplement exceptionnel. Merci
Emanuel Sales
Juillet 19, 2022.
Excelente qualité de produits est la sympathie tiptop
Franck Fournier
Juin 29, 2022.
Des jus de fruits frais délicieux. Cela change des boissons industrielles ! Je les recommande.
Liliane Cabrejas
Juin 13, 2022.
J'ai eu la chance de recevoir en cadeau le panier Gourmet. Il était délicieux ! Les fruits sont frais et vraiment mûrs à point. La confiture était délicieuse et les jus : un régal ! Je vous recommande les paniers Tendance Fruit, c'est un cadeau qui m'a réellement ravie et que j'ai pu partager avec mes proches !
Hilaire Schabel
Juin 1, 2022.
Très bon service, je recommande !
Iconia Group
Mai 23, 2022.
Des produits frais et un service à l'écoute. Je recommande vivement Tendance Fruit SA pour vos paniers de fruits au bureau.
Jess Purple G
Mai 23, 2022.
Super service ! Paniers de fruits variés et bons, fruits secs excellents et sans parler du personnel qui est genial. Je recommande !
Excellent service ! Le panier était magnifique!