Our mission is simple: to serve good taste while respecting the environment and people. At Tendance Fruit, we feel responsible for the quality of our fruit (which involves precise tracing and careful selection) but also for our ecological impact and the well-being of those around us.
Demanding eye, targeted know-how, precise knowledge… Every day, we select the best fruits for you, just waiting to be tasted (we check their sugar content ourselves). And while we can't change the world, we are making a difference by working for ethical cultures, full transparency and ecological sustainability.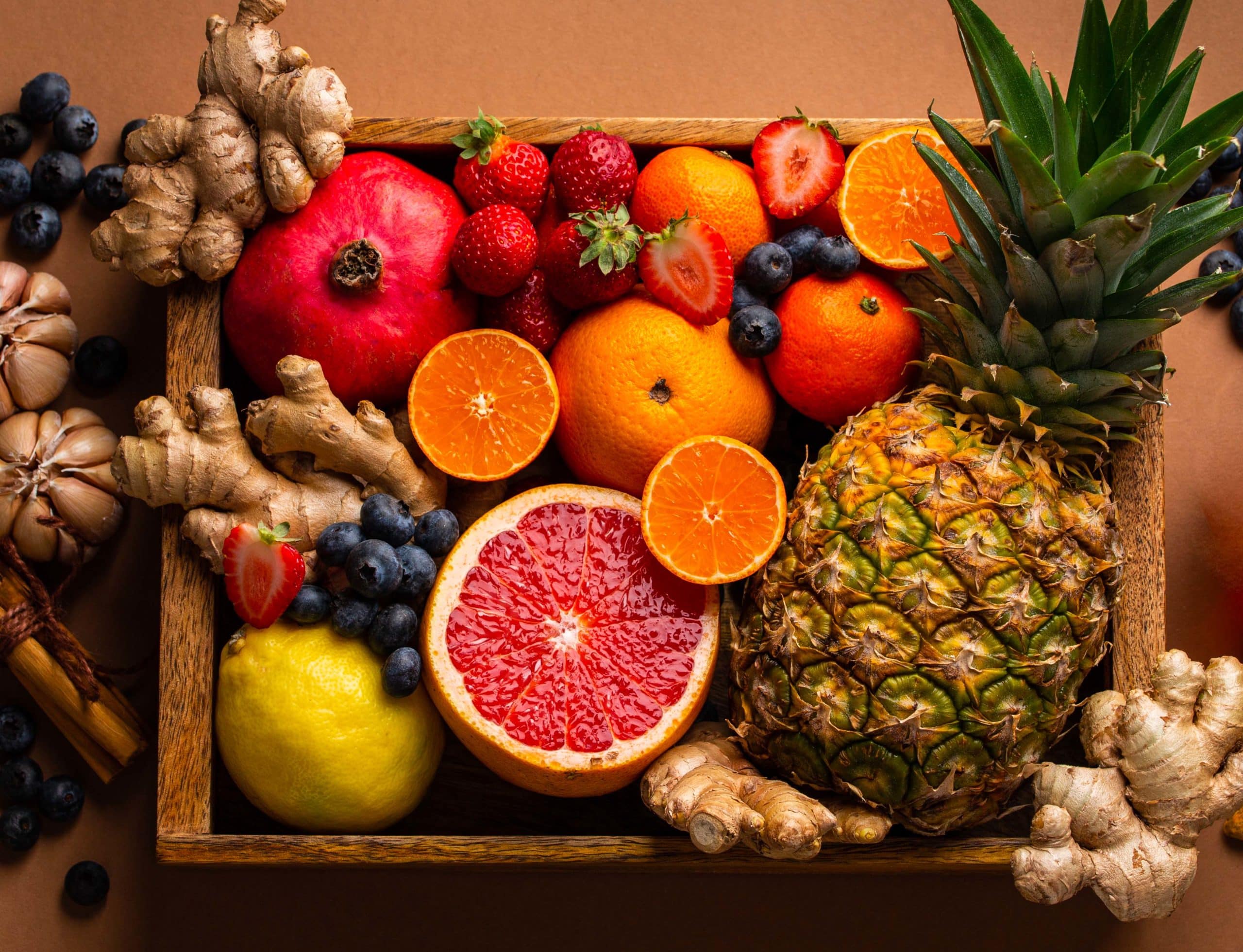 A basket for every occasion
Want to give your traditional gift boxes a boost?
Original and made with the greatest care in our workshop, our filled baskets will surprise you with taste. Quality fruit, but not only! In fact, we also include delicious handmade products. Whether you want to thank friends, clients or simply please your loved ones, choose our fruity, colourful and 100% gourmet compositions.
Artisans at the service of nature, we are proud to offer baskets rich in taste and color. We believe there is beauty in everything. Especially in our fruits.
Vary the pleasures with our seasonal or exotic fruit subscriptions! Our fruit boxes are perfect to bring vitality to your daily life.
At Tendance Fruit, giving pleasure has never tasted so good. Subscription, various fruit baskets and even catering – offer the right package with our gift vouchers ranging from CHF 50 to 500. To awaken the taste buds of your friends, colleagues or family, go here!
A fine selection
Everything is good in our compositions. Quality juices, artisanal dried fruits or gourmet jams, we do everything possible to offer you baskets of ripe fruit and premium products.
Real immune boosters
« Mens sana in corpore sano ». Offer vitality with our gourmet baskets. These assortments are perfect for filling up on vitamins and antioxidants (which act against cell aging). Tasty and healthy, taking care of your body and your health has never been easier.
original gifts
Say it with fruits! Would you like to surprise and awaken the taste buds of your family and colleagues? Change from the traditional box of chocolates or bottle of wine and opt for original, refined and 100% gourmet fruit baskets.
Yanyun Lu
Décembre 16, 2022.
Les produits sont toujours en bonne qualité, et le service aussi ! Même si des fois on ne commande pas dans le bon horaire, mais on nous livre toujours ! Merci pour toute l'équipe ( maru sushi) 😍😍
Amedeo Lai
Novembre 17, 2022.
Antonio Babo
Septembre 16, 2022.
Simplement exceptionnel. Merci
Emanuel Sales
Juillet 19, 2022.
Excelente qualité de produits est la sympathie tiptop
Franck Fournier
Juin 29, 2022.
Des jus de fruits frais délicieux. Cela change des boissons industrielles ! Je les recommande.
Liliane Cabrejas
Juin 13, 2022.
J'ai eu la chance de recevoir en cadeau le panier Gourmet. Il était délicieux ! Les fruits sont frais et vraiment mûrs à point. La confiture était délicieuse et les jus : un régal ! Je vous recommande les paniers Tendance Fruit, c'est un cadeau qui m'a réellement ravie et que j'ai pu partager avec mes proches !
Hilaire Schabel
Juin 1, 2022.
Très bon service, je recommande !
Iconia Group
Mai 23, 2022.
Des produits frais et un service à l'écoute. Je recommande vivement Tendance Fruit SA pour vos paniers de fruits au bureau.
Jess Purple G
Mai 23, 2022.
Super service ! Paniers de fruits variés et bons, fruits secs excellents et sans parler du personnel qui est genial. Je recommande !
Excellent service ! Le panier était magnifique!